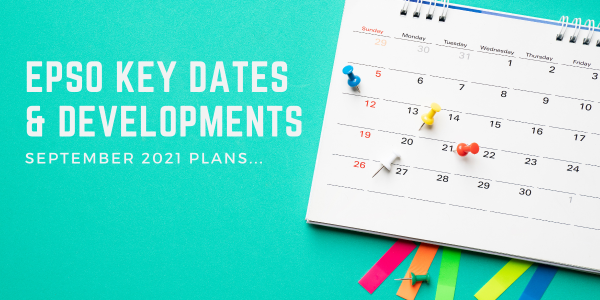 As the summer vacation season rolls slowly towards the end, it's time to take a look at what's coming up in the EPSO calendar for September 2021.
Upcoming EPSO Competitions
A number of EPSO competitions have been announced for release in Autumn 2021.
Take a look at this list for details
To help candidates understand the selection processes of these EPSO competitions and how to prepare effectively for each exam stage, EU Training will hold information webinars on each competition.
You can register for each LIVE information session here - THEY'RE FREE!
Before you complete your application or start preparing for any EPSO competition make sure you get the latest and most accurate information regarding developments and take the time to understand the specifics of each testing round, so you can apply these valuable insights into your preparation schedule.
Administrators In International Cooperation and Managing Aid to Non-EU Countries (EPSO/AD/380/19) EPSO Competition
Lots happening here so take note!
Have you joined the "EPSO Administrators in International Cooperation Exams" Facebook Group yet?
Experts in Technical Support to Member States' Structural Reforms + Experts in the Schengen Acquis (EPSO/AD/391/21) EPSO Competition
Not long now until candidates participating in this competition sit their computer-based tests.
Candidates will need to sit a Verbal, Numerical and Abstract Reasoning test during the exam period, which will run from 2 - 10 September.
Over 1,900 applications have been received for this competition, so expect the competition at the CBT stage to be high as only those candidates that score the highest marks in the CBT exam will progress to the next stage of the competition - Talent Screener review.
PREP TIP: You can access practice test simulations here, and view methodology webinars on each CBT test type here - some are even FREE!
Have you joined the "Experts In Structural Reforms Support & Schengen Acquis - EPSO Exams" Facebook Group yet?
Administrators in the field of European Law (EPSO/AD/381/20) EPSO Competition
Testing of the intermediate stage of this competition is expected to start in mid-September. Specific dates have not been released yet, but if you haven't started preparing for this exam you better get cracking fast!
Unlike the previous exam round, this stage of testing is where the competition will really start to get competitive and tough.
While candidates will only need to attain the minimum pass mark in the Language Comprehension test in order to qualify for the next stage of the competition, they will NEED TO GET one of the highest marks in the Field-Related test to actually qualify for the Assessment Centre stage of the competition.
To help candidates prepare for the intermediate exam EU Training has 50 English and 30 French, Language Comprehension practice tests available (each test consists of 12 questions), as well as, 700 Law Competency practice questions to prepare for this vitally important exam.
Also, have a read of this article for additional resources for the EPSO EU Law competition's Field-Related Test: Best Resources For The EPSO EU Law Competition's Field-Related Test
Have you joined the "EPSO Administrators in European Law (AD5) Exams" Facebook Group yet?
Secretaries (EPSO/AST-SC/10/20) EPSO Competition
The intermediate stage of this competition is expected to kick off at the end of September. Specific dates have not been released yet, but use this time to your advantage by familiarising yourself with the Microsoft Office Word skills test, which will assess candidates' skills in the preparation and processing of MS Word documents.
Candidates will have to score one of the highest overall marks in this test to qualify for the Assessment Centre stage of the competition.
To help candidates prepare for this test EU Training has developed 200 Microsoft Office Word Skills Test practice questions. Questions are based on the Microsoft Office (MS Word) 2016 version in English.
This 60-minute test will consist of 50 questions and will need to be completed in the candidate's chosen Language 2 - English OR French.
Have you joined the "EPSO AST and SC Exams" Facebook Group yet?
Nuclear Inspectors (EPSO/AST/149/21) EPSO Competition
According to EPSO's forward planning calendar, this competition has jumped way ahead in the selection process.
The Case Study test is expected to take place sometime in mid or late September. Therefore, now would be the best time to view our Case Study Insights webinar and to do a few practice Case StudySimulations (with the added option to have your answer evaluated). Our EPSO like Case Study simulations are available in 5 languages.
Have you joined the "Nuclear Inspectors EPSO Exams" Facebook Group yet?
CAST Exams
The testing periods are published on the web pages of the different EPSO CAST profiles.
If you get invited to take part in the computer-based test you will need to complete a Verbal Reasoning Test, Numerical Reasoning Test, Abstract Reasoning Test, and a Competency Test or Language Comprehension Test depending on the CAST profile.
To get you comfortable with these tests and increase your test-taking speed we recommend that you complete some practice tests under exam conditions. We have special practice packages for each EPSO CAST profile. Also, methodology webinars (many are FREE) and online training sessions are also available to take your exam preparation to the next level.
If you are new to the CAST selection process, we recommend that you watch this FREE information webcast: 2019 EPSO CAST Demystified - Q&A
Also, don't forget to connect with other candidates via the EPSO CAST Exams Facebook Group
-------------------------------------------------------------------------------------
Quick Links:
EPSO competitions - how to apply?
What is an EPSO competition?
If you are new to the EPSO selection process then it's important to learn how this complex (and sometimes confusing) process works. The great news is EU Training has all the resources and preparation tools you'll need to get fully prepared. Start by visiting our "New To EU Exams?" page, then browse our FREE Webcasts and Webinars library.
How do I get an EU job?
So you're dreaming of an EU job...congratulations! You're about to embark on an exciting career choice. There are many roads to an EU job and at times these roads can be hard to navigate. That's why we've put together a helpful overview of EU career opportunities in Brussels and beyond so you can get started on the path that is right for you.
Are You New to EPSO Competitions?
EU Training offers a wealth of practice materials for all stages and levels of the EU institutions' selection exams.
Check out our FREE E-books, webinars, webcasts and e-learning materials to help you excel.
If you have a question or need additional help in understanding the EPSO processes, please do not hesitate to contact us.
Want to see what these EPSO Pre-Selection exams look like?
Try our FREE EPSO Exam Demo
Unsure how the EPSO selection process works?
View our short video - 'New To EPSO Competitions'