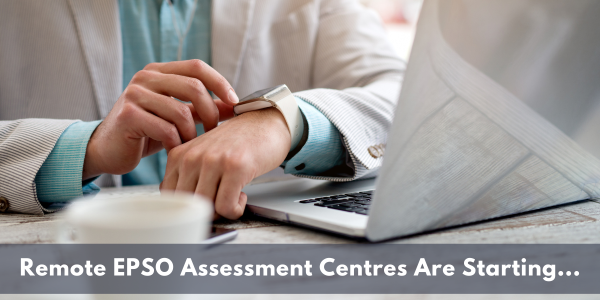 Those candidates participating in the EPSO Specialist in Law & Finance (EPSO/AD/374/19) competition, will be pleased to know that the Assessment Centre component of their selection process will be completed before the end of this year.
Given the current COVID-19 situation, in which national authorities have introduced measures prohibiting large gatherings of people and have put travel restrictions in place for public health reasons, EPSO will not be organising assessments at its premises in the foreseeable future. Hence EPSO Assessment Centres have been moved online and will now be conducted remotely.
Remote online EPSO Assessment Centres will allow candidates to undertake these tests at home, in the office etc. via online videoconferencing, without the need to travel to EPSO's testing centre in Brussels.
Between 23 November - 10 December 2020, the EPSO Specialist in Law & Finance (EPSO/AD/374/19) candidates will be the first group to undertake the Assessment Centre remotely.
As this phase of testing was postponed halfway through due to the COVID-19 outbreak, a number of candidates have already completed their Assessment Centre tests in person. The results of those tests will remain valid with the exception of the Group Exercise, which will be replaced by the newly introduced Situational Competency-Based Interview (SCBI). Therefore, these candidates will also need to complete the online SCBI.
Candidates who did not have the opportunity to complete their Assessment Centre in person before the lockdown in March 2020, will complete all of their Assessment Centre tests online. Be prepared that these tests may take place over several days. In addition to this, the outstanding computer-based reasoning tests (which would normally take place during the Assessment Centre day), will also need to be completed - however, these will be sat at one of EPSO's accredited test centers between 11 - 24 November 2020.
The online process is outlined in more detail in this document
How To Get Ready...
Computer-Based Reasoning Tests
If you want to get the maximum value out of your practice simulation tests and excel on exam day, joining a training session to learn vital tips and tricks from an EPSO expert is a great idea. Each training session is split into two parts and focuses on either the Verbal, Numerical or Abstract Reasoning Test:
PART1 - explores test methodology, insights and tips,
PART 2 - applies this knowledge to practical test simulations.
Competency-Based Interview
There are many factors that can significantly affect your performance in the Competency-Based Interview that you may not even think of.
Given the practical nature of this exercise, it is hard to improve or correct mistakes without feedback from someone that knows specifically what EPSO assessors will be looking for on exam day. This session offers a great opportunity to meet virtually with one of our EPSO experts, be tested on a number of 'likely' interview questions and learn collectively as a group from the feedback given.
A number of Virtual Competency-Based Interview Simulation sessions are coming up!
SCBI - Situational Competency Based Interview
Virtual SCBI workshops are now available. Click here to find out more >>>
Need a reliable space to do your online Assessment Centre?
Would you like to present yourself in the best possible way at your online/remote EPSO Assessment Centre?
Want to make sure no screaming kids, nosy colleagues or construction noise spoils your Assessment Centre scores?
Come to Ambiorix Center's professional studio on exam day, to complete your online EPSO Assessment Centre. Our doors are open to EPSO candidates.
Secure internet, great lighting, high-quality audio, pre-exam soothing words and encouragement.
We have the technical stuff covered, so all you need to focus on is doing your very best!
For pricing and further details please contact the Ambiorix Centre directly here
Please Note: the Ambiorix Centre is based in Brussels, Belgium. Full terms & conditions will be provided as part of the booking process.