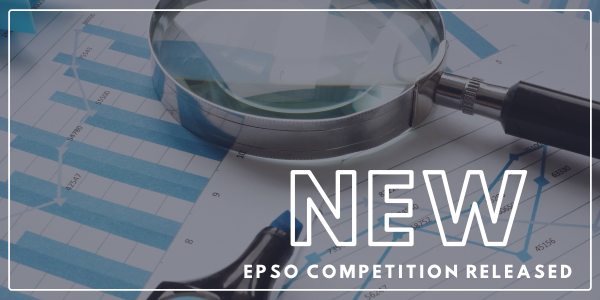 The European Court of Auditors, with the support of the European Personnel Selection Office (EPSO) has just released an official Notice of Competition calling forward applications from specialists wishing to join the team as AD7 level Administrators in the field of Audit.
Below we explore the specifics of this competition and the selection process that you will need to undertake.
Getting ready for this competition?
Access practice packages here, view methodology webinars here - some are even FREE! or join a simulation session.
To help candidates get up to speed with all the ins-and-outs of this competition, EU Training will hold a FREE 2022 Administrators in Audit (AD7) EPSO Exams - Information Webcast to discuss all the key elements of this competition and how best to prepare for each stage.
JOIN THE LIVE INFO SESSION HERE:
DATE: 16 MARCH 2022
TIME: 12:00 - 13:00
Competition Snapshot
Open for Applications: 10 March, 2022
Application Deadline: 12 April, 2022 (12-noon Luxembourg Time)
Places on the Reserve List: 60
Grade: AD7
This competition includes a Talent Screener
Posts will be based in - Luxembourg
Please refer to the Notice of Competition's ANNEX I (page 8) which outlines the duties to be performed.
Eligibility Criteria
Candidates will need to satisfy the following:
Have EU citizenship
Fulfilled any military service requirements
Meet the character requirements for the duties concerned
Have knowledge of at least TWO official EU languages:


Language 1: Have a perfect command (minimum C2 level) of one of the 24 official EU languages

- will be defined as your Language 1.
Language 2: Have a thorough knowledge (minimum C1 level) of either English OR French and MUST BE different to your Language 1 choice

- will be defined as your Language 2.

Qualifications & Work Experience:


Completed university studies of at least 4 years with a diploma. PLUS a minimum of 6 years relevant professional experience. OR
Completed university studies of at least 3 years with a diploma. PLUS a minimum of 7 years relevant professional experience.
"Professional experience" is considered relevant if:

It was acquired in one or more of the following fields: audit, economics, finance, statistics, mathematics, data analysis, computer engineering, and/or data mining,
Plus, it relates to the duties described in Annex I of the Notice of Competition.
Please consult ANNEX II of the Notice of Competition for examples of minimum qualifications.
Selection Process
IMPORTANT: You can complete your application in any of the 24 official EU languages, BUT your Talent Screener MUST BE completed in your chosen Language 2 (English or French)​.
1. ELIGIBILITY CHECK
EPSO will check the data provided by each candidate via their online application against the eligibility requirements of this competition. Remember that you can fill out your application in any of the 24 Official EU languages - except for the Talent Screener, which needs to be completed in your chosen Langauge 2 (English or French). Candidates that are deemed eligible will move on to the next round of the competition.
2. TALENT SCREENER
You MUST complete your Talent Screener in Language 2 - English OR French.
The selection board assigns a weighting to each selection criterion and based on the information provided in the Talent Screener each candidate will receive a score. Only those candidates with the highest overall marks will go through to the next stage. Therefore, you should include all relevant information in your Talent Screener answers, even if you have already mentioned it in other sections of your application form. The questions are based on the selection criteria included in this notice - see ANNEX IV for the list of criteria.
Getting this part wrong can easily jeopardise your chances of moving through to the next stage of the selection process - which you don't want to risk. To better understand how the EPSO Talent Screener works it is advised that you view this webinar recording - Everything You Need To Know About EPSO's Talent Screener.
---
Need help with your EPSO Application or Talent Screener?
Take a look at our Application Assistance service
---
3. ASSESSMENT CENTRE
Those who scored the highest marks in the Talent Screener will be invited to the Assessment Centre. A maximum of 3 times the number of successful candidates sought will be invited to this phase.
You will be invited to attend an Assessment Centre (online or in-person) over one or several days and will need to complete the exercises in your chosen Language 1 or 2. (Further details and instructions will be included in your invitation letter.)
As part of the Assessment Centre, you will need to complete a series of computer-based multiple-choice reasoning tests in your chosen Language 1.
Tests

Language

Question

Duration

Pass mark

Language 1

20 questions

35 min

Verbal
+ Numerical
+ Abstract

Combined 30/50

Language 1

10 questions

20 min

Language 1

10 questions

10 min
To progress in the competition and be invited to undertake the other Assessment Centre exercises you MUST reach the exam's pass mark.
The results of this exam will NOT be added to the marks obtained in the other Assessment Centre tests when calculating your final overall score.
Those progressing forward in the Assessment Centre will be tested on 8 general competencies, as well as field-related competencies required via 3 tests:​
These exercises will need to be completed in your chosen Language 2.
Each general competency will be awarded a mark out of 10, with a total pass mark required of 40/80.
In addition to this, the Field-Related Interview will require a minimum pass mark of 120/200.
4. RESERVE LIST
After checking candidates' supporting documents, the selection board will draw up a Reserve List of eligible candidates who obtained the highest overall score, until the number of successful candidates sought for each field is reached.
How Can You Apply?
Make sure to ALWAYS check the official Notice of Competition and understand the rules relating to the exams.
For full details on this selection procedure read the official Notice of Competition and the General Rules Governing Open Competitions to ensure you have the required qualifications and satisfy the eligibility criteria before applying.
Click here to start the application process: Administrators in the field of Audit (AD7)
Are You New to EPSO Competitions?
EU Training offers a wealth of practice materials for all stages and levels of the EU institutions' selection exams.
Check out our FREE E-books, webinars, webcasts and e-learning materials to help you excel.
If you have a question or need additional help in understanding the EPSO processes, please do not hesitate to contact us.
Want to see what these EPSO Computer-Based Reasoning Tests (CBT) look like?
Try our FREE EPSO Exam Demo
Unsure how the EPSO selection process works?
View our short video - 'New To EPSO Competitions'
Useful reading:
How To Make The Most Of Your EPSO Talent Screener
The Motivation Challenge - What To Write In Your EPSO Application?
13 Best EPSO Preparation Resources - Free and Paid
What EU Job Applicants Should Always Keep in Mind
6 Reasons Why EU Exam Candidates Fail
Quick Links:
EPSO competitions - how to apply?
What is an EPSO competition?
If you are new to the EPSO selection process then it's important to learn how this complex (and sometimes confusing) process works. The great news is EU Training has all the resources and preparation tools you'll need to get fully prepared. Start by visiting our "New To EU Exams?" page, then browse our FREE Webcasts and Webinars library.
How do I get an EU job?
So you're dreaming of an EU job...congratulations! You're about to embark on an exciting career choice. There are many roads to an EU job and at times these roads can be hard to navigate. That's why we've put together a helpful overview of EU career opportunities in Brussels and beyond so you can get started on the path that is right for you.