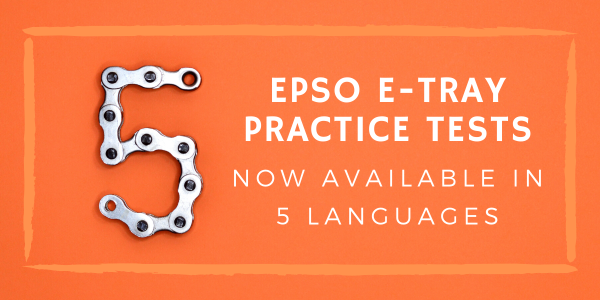 Ready to complete some EPSO E-tray simulation tests?
Well, you've come to the right place.
3 BRAND NEW E-TRAY simulations have just been uploaded to our test database.
One of these has even been made available in all top 5 languages of the AD5 competition - English, French, German, Italian and Spanish.
This means EU Training has 30 AD practice E-tray exercises available in English, 7 E-tray tests in French and one available in German, Spanish and Italian.
Our E-tray practice tests have been designed to simulate, as accurately as possible, the real EPSO exams and each comes with detailed explanations for each answer option, so you can learn to better assess the action options presented via this exam.
All of our E-tray simulations:
Include 18-21 information articles/background emails.
Have 21 related senarios - all with 3 possible actions that you will have to evaluate.
Contain complex background materials that include figures, abbreviations and jargon.
To increase difficulty, vital pieces of information needed to correctly answer questions relating to scenarios are spread across several emails.
The length of emails, scenario text, and action options are in line with the feedback received from previous EPSO candidates that sat the E-tray test.
All four competencies are assessed equally: Analysis & Problem Solving, Delivering Quality & Results, Prioritising & Organising, Working With Others.
Include detailed explanations for each answer option.
As with the Pre-Selection exam, regular and consistent practice really does make a big difference in increasing your speed and efficiency.
That's why we recommend you do a couple of E-tray simulations to get familiar and proficient with this exam.
The E-tray Exercise is a very challenging exam. The strict time limit imposed and the vast amounts of information that candidates need to process super quickly to complete the exam successfully is grueling.
Understanding the logic behind the E-tray Exercise and following strategies to boost efficiency are vital in the preparation of this exam to maximise your final exam score.
Those EPSO candidates who take the time to understand the right and wrong behaviours for each competency being measured strongly increase their chances of getting a higher score in the E-tray exam.
In addition to doing practice tests, you can further improve your proficiency in this exam by: