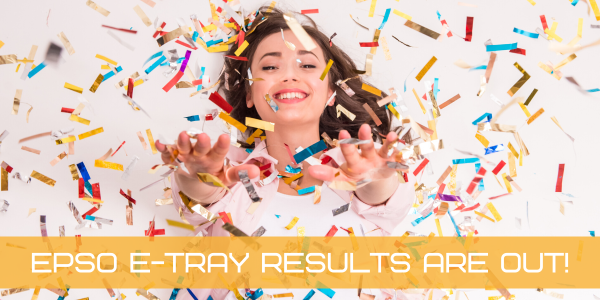 The European Personnel Selection Office (EPSO) just released the greatly anticipated results for the 2019 EPSO AD5 E-tray Exam.
A BIG congratulations to those who made it through to the next phase of the competition!
Those candidates that scored 27.26/40 or higher in their E-tray Exercise will make it to the final round of the 2019 Administrators Generalists competition - the Assessment Centre.
This is slightly lower than last year's 28.1/40.
It is anticipated that 294-368 candidates will be invited to the Assessment Centre as the official Notice of Competition states that "Approximately 2 times, but no more than 2.5 times, the number of successful candidates sought will be invited to take the tests at the Assessment Centre".
Remember the marks scored in the E-tray exercise will be combined with the scores of the Assessment Centre tests to give your overall competition score.
Want to join the conversation and talk to other candidates about this competition?
Join the EPSO Assessment Centre - AD5 Graduate Administrators Facebook group
Key Dates...
Case Study: 16 March, 2020
Assessment Centre in Brussels: no specific dates have been stated, but it is expected to take place in April/May.
Now that you've made it to the next round, it's time to start preparing for the Case Study and Assessment Centre. The good news is we can get you fully prepared for each test!
How To Get Ready For The Assessment Centre
This session will offer you the opportunity to ask any questions you may have about the 2019 EPSO Graduate Administrator (AD5) competition's Assessment Center from two EPSO experts - Baneth András and Anna Schmidt. This LIVE and FREE webcast is a great chance to gain professional insights from those that know the ins-and-outs of the EPSO exams and selection processes.
If you would like to join this open question and answer session register here.
EPSO Case Study Exam Prep...
Case Study Exam Insights Webinar: This webinar offers a detailed overview of the Case Study component of the EPSO Assessment Centre and explores the methodologies to get the highest scores, offers practical advice on how to structure your time and manage difficulties. In addition is offers useful references to additional preparation resources, useful websites and background reading information.
Case Study Simulations with Evaluation: Practice makes perfect, so start doing a few practice Case Study tests now. We have 17 Case Study simulations available in English, 5 in French and we are currently working on adding German, Italian and Spanish versions to our database in early February.
If you want to further improve and get even better results, send your completed Case Study practice tests off for evaluation. Our EPSO experts will review it, score it and give valuable feedback on where you can improve. Case study evaluations also include a sample solution.
EPSO Assessment Centre Insights...
Before you start preparing for the Assessment Centre stage of your EPSO competitions take the time to understand the specifics of each test that you will encounter during this exam phase. These webinars that cover each exam's methodology in detail are the perfect Assessment Centre preparation starting point. In addition, they offer useful references to additional preparation resources, useful websites and background reading materials.
EPSO Assessment Centre Simulations...
Many candidates perform well below their potential at the Assessment Centre as they are in an unfamiliar environment where words, actions, and body language matter more than you would initially assume. Improving competencies takes time, dedication and self-practice. Focused heavily on the practical side of the EPSO exams rather than the theory, EU Training's training sessions are designed to help calm nerves and to build candidates' confidence by simulating EPSO test conditions before the real thing. These training sessions present the opportunity to meet face-to-face with our highly experienced assessors and to engage with other candidates without being ranked against them.
EPSO Assessment Centre Coaching...
If you are looking for some one-on-one, completely tailored to your needs coaching from an EPSO expert, look no further.
Assessment Centre Personal Coaching sessions are fully customised and tailored specifically to your needs.
The focus could be on highlighting improvement opportunities, undertaking Competency Based Interview or Oral Presentation simulations, or discussing Case Study and Group Exercise strategies. The options are limitless, but one thing is for certain, you will enter the Assessment Centre with confidence and preparedness through our EPSO experts' guidance.
Best of luck with your preparations!
If you have a question or need additional help in understanding the EPSO processes, please do not hesitate to contact us.