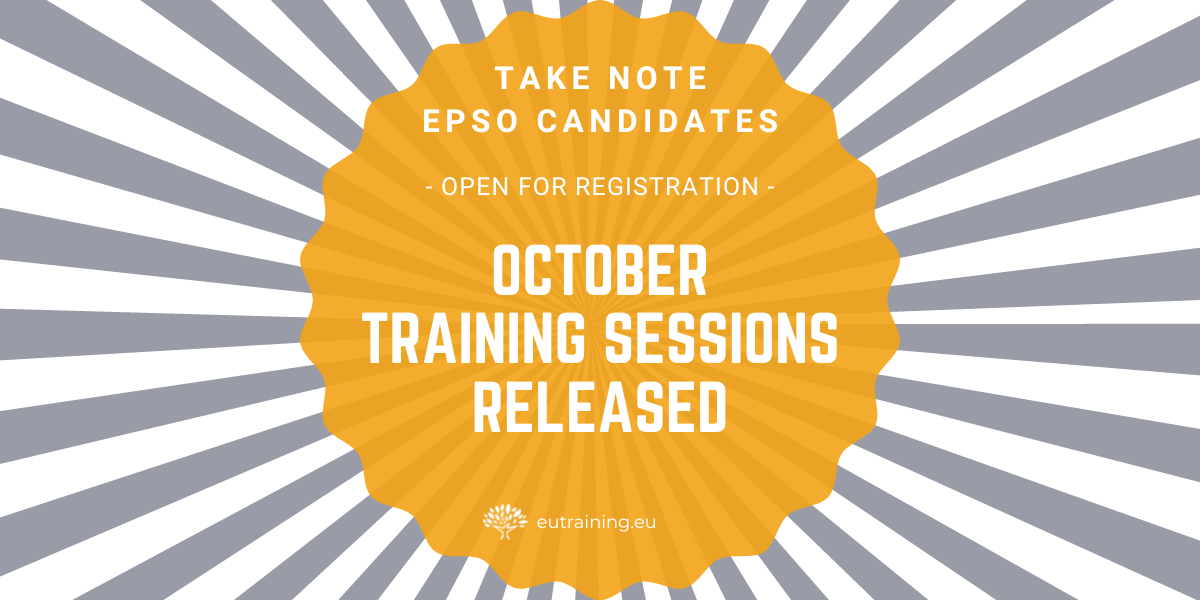 NEW EPSO training sessions released for OCTOBER 2022!
---
SCBI Workshops for Proofreaders & Language Editors
Proofreaders/language editors - EPSO/AST/148/21 - EL, ES, ET, GA, IT, PT
This competition is smack-dab in the middle of the Assessment Centre phase. To help you maximise your chances of success, this interactive style of training is all about collaborative learning and group feedback for candidates participating in the same competition. You'll be able to answer 'likely' interview questions, discuss best responses and share feedback/suggestions through the expert guidance of one of our EPSO trainers.
The next SCBI Workshop for this competition is scheduled for Thursday, 20 October at 12:30 PM (Brussels time / CET).
​
---
Does your Assessment Centre include a Field-Related Interview?
Administrators in the Field of Maritime Affairs and Fisheries - EPSO/AD/397/21
Audiovisual and conference / building / laboratory technicians - EPSO/AST/150/21
There are FRI simulation sessions available, tailored to each unique EPSO competition. This allows you to discuss the specifics of your competition with candidates in the same boat. You'll also be able to simulate the live interview because our expert coach will be asking questions related to your Talent Screener, just like in the real EPSO interview. You'll also receive a recording of your answer(s).
To help you prepare for the Field-Related Interview, here are the next simulations happening for the following competitions:
This is also a good time to review your Talent Screener, study the answers/examples that you have provided - you will be asked about these at the actual EPSO Field-Related Interview.
---
Do you have Competency-Based Interview coming up?
Administrators in the Field of External Relations - EPSO/AD/382/20
Administrators in the Field of Maritime Affairs and Fisheries - EPSO/AD/397/21
Audiovisual and conference / building / laboratory technicians - EPSO/AST/150/21
Lawyer-Linguist (EL, FR, PL) - EPSO/AD/376/20, EPSO/AD/377/20, EPSO/AD/379/20
Participate in one of our CBI simulation sessions and you'll get to simulate 'likely' interview questions, then get immediate feedback from one of our knowledgeable EPSO coaches. Doing this with a coach and other candidates will allow you time to perfect your answers and gain insight on areas needing improvement.
Along with a CBI Simulation, we suggest perhaps getting more in-depth into the methodology. Take a look at our EPSO Competency-Based Interview Insights webinar (paid). This FREE webinar will also be helpful: "Understanding EPSO Competencies and Values".
The next training session is scheduled for Friday, 14 October at 12:30 PM. Good news for those of you doing your Assessment Centre in French - the trainer for this session can ask the questions and provide feedback in FRENCH if you prefer (just please let us know in time!)
---
Do you have an EPSO computer-based test coming up?
NEXT CBT TRAINING DATE: SATURDAY - 22 OCTOBER 2022
The EPSO Computer-Based Tests are not difficult, but the tight time limits do make them challenging. The sooner you start preparing and the more often you practice - the better!
Learning a few tricks to cut corners and recognise opportunities helps to maximise your exam score - regardless of your chosen language. This type of methodology is applicable in any language.
For those of you who have test-taking anxiety, this is also a great time to practice the strict time limit during test taking. There will be a shorter version of the EPSO CBT, a test simulation with the same time limits applied. You will be able to do this in a live setting. Afterwards you will go through each question and the correct answer explanation with the trainer.
EU Training's "Master the EPSO Computer-Based Tests (Online Training)" workshop is designed to help calm nerves and build confidence!
The full-day training session covers all three EPSO computer-based tests (Verbal Reasoning, Numerical Reasoning and Abstract Reasoning), and is totally interactive. You can ask questions throughout from our highly experienced instructor.
Each reasoning skill topic will be split into two parts:
PART 1 - explores test methodology, insights and tips
PART 2 - applies this knowledge with test simulations
*More training sessions may be released depending on demand.