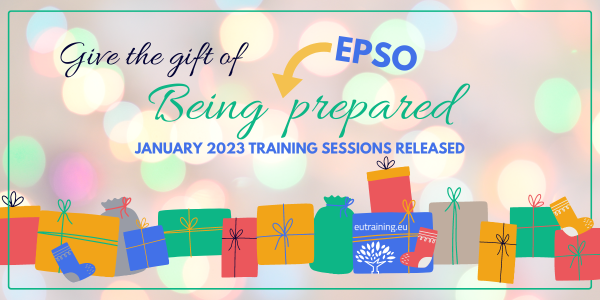 Looking for a last minute gift? Want to help a loved one get motivated to pass their EPSO exams? Here's the perfect opportunity! Give them the gift of a confidence boost and being best prepared for their exams. Although we don't know for sure when the Assessment Centre phase will start up for some competitions, a couple of them will hopefully commence in January / early February. Many competitions are still in EPSO limbo after eligibility checks and Talent Screeners being scored, so we are all waiting on pins and needles for EPSO to send out the invitations to the AC.
JANUARY EPSO Training sessions
Current status as of 14 December, 2022 - more training sessions will be added as EPSO releases AC dates.
---
EPSO / CAST Computer-Based Test (CBT) - REASONING SKILLS
Relevant for: CAST candidates and Administrators in the field of Audit EPSO/AD/399/22
NEXT Master the EPSO CBT Online Training Session DATES:
After-Work Training Session (17:30 - 19:30) | Master the EPSO CBT | Three-Part Series:
We have received great feedback from past participants about these training sessions and there is one common statement in all of them: this is a great way to kickstart your preparation. These January training sessions can help lay the foundations for your preparation plan, you'll be able to self-assess what stage you are in and where your weak points are, then be fully prepared for your CBT date: for CAST candidates this is early February 2023.
This can also be relevant for many competitions where the CBT is part of the Assessment Centre as the first test, for example Administrators in the field of Audit. If you start preparing now, you'll be well on your way in improving your skills and in already a leg up on other candidates with your prep work.
EU Training's "Master the EPSO Computer-Based Tests" online training session is designed to build confidence, increase question-answering speed and help focus your preparation in the right areas.
Each reasoning skill topic will be split into two parts:
PART 1 - explores test methodology, insights and tips
PART 2 - applies this knowledge with test simulations
---
EPSO (General) Competency-Based Interview
Upcoming CBI Simulations open for registration:​​
Although invitations for the AC have not been sent out, these CBI Simulations are most likely most useful for these competitions:
Linguistic Assistants

Estonian (ET) EPSO/AST/152/22 - ET

Croatian (HR) EPSO/AST/152/22 - HR

Italian (IT) EPSO/AST/152/22 - IT

Dutch (NL) EPSO/AST/152/22 - NL

Polish (PL) EPSO/AST/152/22 - PL

Portuguese (PT) EPSO/AST/152/22 - PT

Administrators in the field of Audit - EPSO/AD/399/22
This is a great chance to have a go in the 'hot seat' while answering sample interview questions. Guided by one of our expert coaches who will give you instant feedback, as well as collaborating with other candidates will give you the chance to perfect your answers and gain insight on where to focus further preparation. AND the great news is, you can now do the CBI simulation in FRENCH, with our native French speaker Juliette.
To help you get a deeper understanding of the CBI methodology, you may be interested in this EPSO Competency-Based Interview Insights webinar (for purchase). Or, this FREE webinar will also be helpful in "Understanding EPSO Competencies and Values".
---
EPSO Field-Related Interview
Relevant for: Administrators in the field of Audit EPSO/AD/399/22
Upcoming Field-Related Interview Simulation:
During this interview candidates will be asked questions related to their field and based on their Talent Screeners. These training sessions will simulate this exam environment, the coach will have prepared by reviewing a sample Talent Screener and will ask questions that are likely to come up during the live exam. Another plus here is that you will receive a recording of your answer(s) (for your use only). The coach will also cover best practices and methodology.
---
To Be Added Soon...
When EPSO wakes up from its Holiday Hibernation, things will get rolling again pretty quickly. As they start sending invitations to the Assessment Centres and releasing assignments we will add training sessions accordingly. So, WATCH THIS SPACE! Here's what to look out for:
Situational Competency-Based Interview (SCBI) Workshops
More CBI Simulations and FRI Simulations (in FRENCH too!)
Oral Presentation Simulations and FRI Simulations for the Internal Competitions
More 'Master the EPSO Computer-Based Test' training sessions - Full day and weekday workshops
---
RESOURCES FOR YOUR EPSO PREP
While we wait for more news from EPSO, get a head start with these useful resources: articles, webinars,