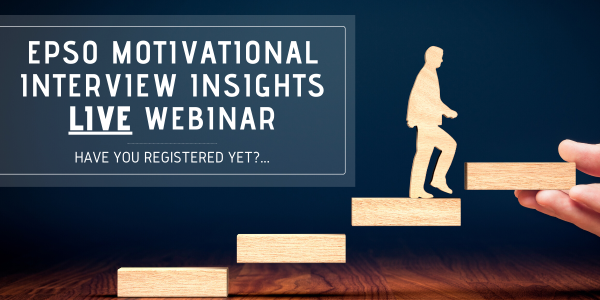 Those participating in the EPSO Graduate Administrator competition will need to complete a Motivational Interview as part of the Assessment Centre.
This can be quite a tricky interview to navigate as it is easy to fall into the trap of giving cliche answers or sounding insincere.
It is, therefore, crucial to understand the specifics of what assessors will be looking for, so you can prepare effectively for this interview.
Winging it on exam day and hoping for the best is certainly not going to cut it.
Last year, EU Training held a live webinar where our EPSO trainers shared their expectations and preparation strategies for the newly introduced Motivation Interview.
Despite the newness of this interview and consequently the uncertainties surrounding it, we were pleased to hear that the preparation advice shared by our trainers was totally in line with what candidates experienced at the actual EPSO Assessment Centre.
To make the webinar even richer with practical tips and tricks to help you excel in this interview, in addition to our trainers' sound advice, we have tweaked the contents of this webinar to also reflect the feedback provided by candidates.
EPSO Graduate Administrator competition candidates take note - this LIVE WEBINAR is for you!
EU Training will host a LIVE session of this newly enhanced "EPSO Motivational Interview Insights" webinar.
At this stage in your preparation, you're probably wondering...
What's the best way to prepare for this type of interview?
What is EPSO aiming to measure through this interview?
How will the results of this interview affect my overall Assessment Centre score?
During this live session not only will our trainers answer these questions and offer strategies to tackle this interview, but they will also answer all of your other queries too.
This LIVE webcast is a great chance to gain professional insights from those that know the ins-and-outs of the EPSO exams and selection processes the best.
Register your place at this webinar: Due to the coronavirus, this event has been postponed to a later date.
EPSO Motivational Interview Insights​
This live session will be hosted by:
Anna Schmidt, who has extensive HR experience within the EU Institutions having interviewed thousands of candidates as a former recruiter, and
Andras Baneth, co-author of The Ultimate EU Test Book - Assessment Centre edition, a former EU official and expert on EU careers.
If you can't attend the live session on this date/time, no problem!
Register for this session anyway and we will add the recording to your EU Training account as soon as it is loaded to the website. This way you can view it any time you want, as many times as you want. Easy!
For those candidates that attended last year's live session or have already purchased the recorded version of this webinar, the recording will be updated with the 19 March session's recording after the event.
You have already put in a bunch of work and effort to get to this point in the competition. Don't make the mistake of being complacent about this interview. Register to participate in this live session a reap the benefits of the insights you will gain.
**Due to the coronavirus, this event has been postponed to a later date**
RESERVE YOUR SPOT AT THE LIVE SESSION HERE:
WHEN: SESSION HAS BEEN POSTPONED TO A LATER DATE
TIME: 17:00-18:00 (BRUSSELS TIME)