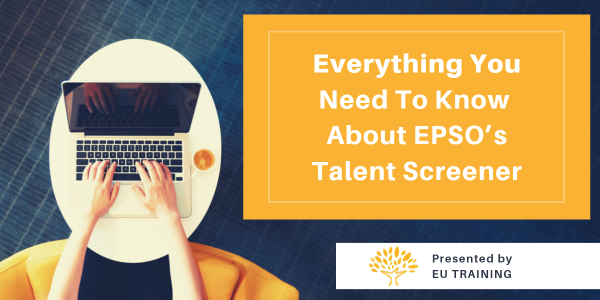 A great opportunity has presented itself - an EPSO competition that matches your area of expertise and qualifications has been announced!
Now it's time to complete your application...
...but as you read through the Notice of Competition you see that you also need to fill out a Talent Screener as part of the application process.
"What is a Talent Screener?" - you might ask.
At first glance, it may seem like just another section of the application form, but in fact, it plays a crucial role at the very start of the EPSO selection process.
Getting this part wrong can easily jeopardise your chances of moving through to the next stage of the competition - which you don't want to risk.
To help candidates complete their Talent Screener successfully, EU Training recently held a webinar on the topic to discuss the requirements of this task in detail.
During this session two leading EU career experts, Anna Schmidt (who has extensive HR experience within the EU Institutions having interviewed thousands of candidates as a former recruiter) and Andras Baneth (author of The Ultimate EU Test Book, a former EU official and expert on EU careers), dove deep into all aspects of the Talent Screener:
how it is used as a selection tool,
how it is scored,
common mistakes candidates make,
and offered tips on how to prepare a stellar Talent Screener that scores high during the Selection Board's screening process.
In addition to this, many great questions were asked over the course of the live session, which have now been compiled into an easy to read Q&A document.
The recording of this live session is now available for you to add to your webinar collection.
Would you like some expert guidance on how to enhance your EPSO application and Talent Screener?
Our EU career expert is on hand to review these and offer personally tailored advice via our Application Assistance service.
You can access the Talent Screener webinar here: