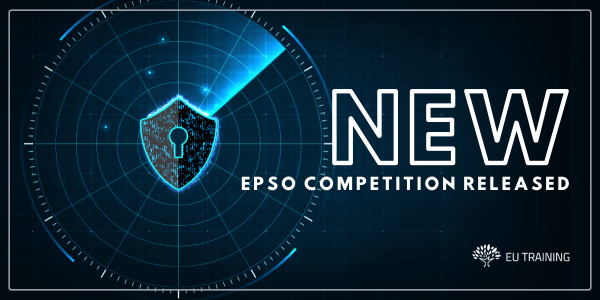 On 17 November, 2022, the European Personnel Selection Office (EPSO) released an official Notice of Competition aiming to select assistants in the fields of Security and Health & Safety. Successful candidates will end up on the Reserve List from which EU institutions, offices and agencies can then recruit.
This will be the last competition EPSO releases this year.
To help candidates understand and decode all the information presented by EPSO in this Notice of Competition, EU Training will hold an 2022 EPSO Assistants in Security & Safety - Information Webcast on Friday, 18 November 2022 at 12:30PM (Brussels time / CET).
Within this competition, THREE profiles have been announced:
Operational Security (EPSO/AST/155/22 - 1)
Technical Security (EPSO/AST/155/22 - 2)
Occupational Health & Safety (EPSO/AST/155/22 - 3)
Below we explore the specifics of this really exciting competition and the selection process involved.
Want to join the conversation and talk to other candidates about this competition?
Get helpful hints and advice from other candidates by joining the Assistants in Safety & Security EPSO EXAMS Facebook group.
Getting ready for this competition?
Access practice packages here, view methodology webinars here - some are even FREE! or join a simulation session.
------------------------------------------------------------------------------------
Competition Snapshot
Open for Applications: 18 November 2022
Application Deadline: 20 DECEMBER 2022 (12-noon Brussels Time)
Grade: AST3
This competition covers three profiles - you may apply for only one - and you cannot change profiles after you have validated your application
Posts will be based in Brussels, Luxembourg, Strasbourg
Under this competition, the following THREE reserve lists have been advertised, from which the various European Institutions may recruit new members:
| | |
| --- | --- |
| Profile & Competition Code | Candidates Sought |
| Operational Security | EPSO/AST/155/22 - 1 | 44 |
| Technical Security | EPSO/AST/155/22 - 2 | 24 |
| Occupational Health & Safety | EPSO/AST/155/22 - 3 | 33 |
Please read the Notice of Competition's Point 2 "what duties can I expect to perform" section for details on the main roles covered by each field. These will also be summarised in the INFO WEBCAST.
------------------------------------------------------------------------------------
Eligibility Criteria
Candidates will need to meet the following criteria:
Have EU citizenship
Fulfilled any military service requirements
Meet the character requirements for the duties concerned
Have knowledge of at least TWO official EU languages:

Have a thorough knowledge (minimum C1 level) of one of the 24 official EU languages.
Have a good command (minimum B2 level) of ENGLISH OR FRENCH
Language 1 and 2 MUST BE DIFFERENT
Qualifications & Work Experience:
------------------------------------------------------------------------------------
Selection Process
IMPORTANT: You can complete your application in any of the 24 official EU languages, BUT the Assessment Centre will be in English or French (your chosen Language 2)
1. PRE-SELECTION
This phase of the competition is made up of a series of computer-based multiple-choice reasoning tests. These are sometimes also referred to as CBT. All candidates must take the pre-selection exams in one of the EU's 24 official languages (your chosen Language 1).
| | | | |
| --- | --- | --- | --- |
| TYPE | Question | Duration | Score |
| Verbal Reasoning | 20 questions | 35 min | 0/20 |
| Numerical Reasoning | 10 questions | 20 min | 0/10 |
| Abstract Reasoning | 10 questions | 10 min | 0/10 |
Only those of you who have a top-ranking score for all three tests combined will have your applications checked for eligibility.
The results of these three tests will NOT be added to the marks obtained in the other Assessment Centre tests when calculating your final overall score.
2. ELIGIBILITY CHECK
Those of you who scored the highest marks in the Computer-Based Tests will have your applications checked against the eligibility requirements of this competition. Candidates found eligible through their application will move on to the next round of the competition.
3. ASSESSMENT CENTRE
A maximum of 3 times the number of successful candidates sought for each profile will be invited to this next phase.
Those progressing forward in the Assessment Centre will be tested on the SEVEN general EPSO competencies through TWO tests:​
Case Study
Situational Competency-Based Interview (SCBI)
Each general competency will be awarded a mark out of 10, with a total pass mark required of 35/70.
Field-related competencies will be tested through the Field-Related Interview (FRI) and and the pass mark is 50/100.
These exercises will need to be completed in your Language 2.
4. RESERVE LIST
After checking candidates' supporting documents, the selection board will draw up a Reserve List of eligible candidates who obtained the highest overall score, until the number of successful candidates sought is reached.
------------------------------------------------------------------------------------
How Can You Apply?
Make sure to ALWAYS check the official Notice of Competition to fully understand the rules related to your specific competition and the exams. For full details on this selection procedure read the official Notice of Competition and the General Rules Governing Open Competitions to ensure you have the required qualifications and satisfy the eligibility criteria before applying.
To start the application process, click on your chosen profile:
Are You New to EPSO Competitions?
EU Training offers a wealth of practice materials for all stages and levels of the EU institutions' selection exams.
Check out our FREE E-books, webinars, webcasts and e-learning materials to help you excel.
Not sure what some of these new terms mean?
Get familiar with the lingo - check out our updated EPSO Glossary.
Want to see what these EPSO Pre-Selection exams look like?
Try our FREE EPSO Exam Demo
Unsure how the EPSO selection process works?
View this comprehensive playlist on EU Training's YouTube Channel.
Have a question?
Or need additional help in understanding the EPSO processes, please do not hesitate to contact us.
Useful reading:
The Motivation Challenge - What To Write In Your EPSO Application?
13 Best EPSO Preparation Resources - Free and Paid
What EU Job Applicants Should Always Keep in Mind
6 Reasons Why EU Exam Candidates Fail
Quick Links:
EPSO competitions - how to apply?
What is an EPSO competition?
If you are new to the EPSO selection process then it's important to learn how this complex (and sometimes confusing) process works. The great news is EU Training has all the resources and preparation tools you'll need to get fully prepared.
How do I get an EU job?
So you're dreaming of an EU job...congratulations! You're about to embark on an exciting career choice. There are many roads to an EU job and at times these roads can be hard to navigate. That's why we've put together a helpful overview of EU career opportunities in Brussels and beyond so you can get started on the path that is right