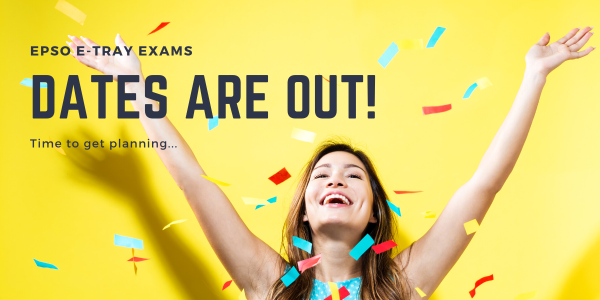 The European Personnel Selection Office (EPSO) has released the exam dates for the 2019 EPSO Administrators (AD5) competition's E-tray Exercise.
While the results of the pre-selection CBT exams have not been announced yet, this new information offers the opportunity to start planning your preparation strategy for the next stage of this competition.
Based off this timeline though I think it is safe to say that we can expect to see the CBT results come out very soon- maybe as soon as next week!
Once the results are announced you won't have too much time to prepare before the intermediate exams take place, so it's important to plan ahead.
KEY DATES:
E-tray booking period: 8 November - 14 November 2019
E-tray Exam Period: 2 December - 5 December 2019
The strict time limit imposed on this test and the vast amounts of information that candidates will need to process super quickly to complete the E-tray Exercise, makes it a very challenging test.
Understanding the logic behind the E-tray Exercise and following strategies to boost efficiency are vital in the preparation of this exam, to maximise your final exam score.
Those EPSO candidates who take the time to understand the right and wrong behaviours for each competency strongly increase their chances of getting a higher score in the E-tray exam.
The good news is we can help you get E-tray ready in record speed. We have pulled all our resources together to give you the best E-tray preparation tools available.
E-tray Exercise Simulations
EU Training has 27 practice E-tray exercises that simulate the actual EPSO E-tray exams.
Not only that - in the coming days we will be loading a brand new e-tray simulation in all top 5 languages - English, French, German, Spanish and Italian!
E-tray Insights LIVE Webinar
While you wait for the pre-selection exam results to come out, mark these two dates down in your calendar: 12 November and 25 November.
To help candidates get ready for the E-tray Exercise exams, EU Training will hold two LIVE E-tray webinars in November where participants can ask all their most pressing questions from our EPSO E-tray expert while accessing helpful insights and vital tips and tricks.
On 12 November & 25 November from 17:30-18:30 (Brussels time), EU Training will hold LIVE EPSO E-Tray Insights Webinars that:
explore the components that make up an E-tray and key elements to be mindful of
explain the competencies being measured
cover the positive and negative indicators for each competency
offer insights into how the 'correct' answers are chosen by the designers
provide several questions and answer blocks where you can get direct feedback from our E-tray expert.
Presented by EU Training's Senior Occupational Psychologist with over 20 years' experience in psychometric tool design - find out first-hand what to expect from the process.
You can book your place at one of our LIVE EPSO E-Tray Insights Webinars here:
The EPSO E-tray Exercise E-book
NOW AVAILABLE ON KINDLE - with E-tray test included
You can access the free version of the e-book here or purchase the full version of the book on Amazon, which includes a full E-tray Exercise test.
This book has been written by experts in the EPSO selection process, to help you understand what an e-tray exercise is, what it is designed to assess and how to perform well.
ALSO, DON'T FORGET...
...to join the EPSO Graduate Administrator (AD5) - ETRAY TIPS Facebook group - where you can engage with other candidates about this competition.