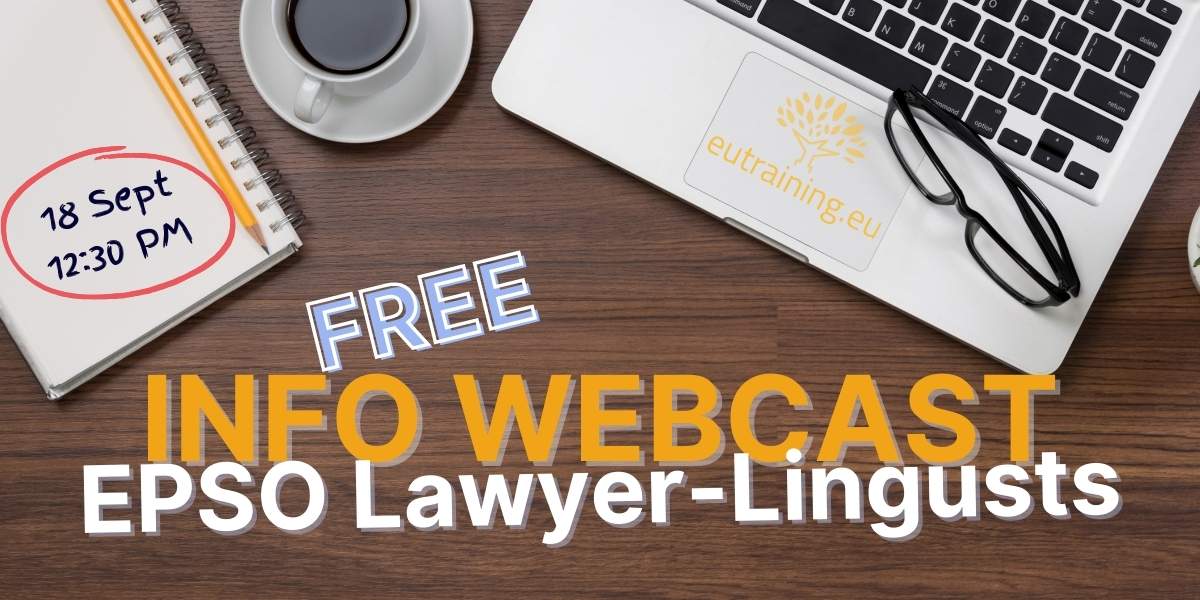 On 14 September 2023, EPSO will release the official Notice of Competition for Lawyer-linguists (AD7), covering the following languages:
English (EN)
Spanish (ES)
Lithuanian (LT)
Dutch (NL)
Portuguese (PT)
Slovak (SK)
EU Training will host a Lawyer-Linguists | 2023 EPSO Exams | Info Webcast on Monday, 18 September @12:30 PM (Brussels Time/ CET).
Get first-hand analysis, insights on the EPSO selection process and practical advice from presenter András Baneth, Europe's #1 expert on EU careers, a former EU official and author of The Ultimate EU Test Book.
Now all you have to do is register. How, you ask? It's super easy:
Log into your EU Training account first (or create an account if you don't have one).
Once you are logged in you can reserve your spot at this live webcast by selecting the "GET" option on the right.
The webcast item will automatically appear in your EU Training 'Dashboard', under the "MY WEBINARS" block, and this is where you can access the live webcast from.
Additional instructions will be sent via email latest 30 minutes before the event's start time.
If you can't attend the live session, no problem: Register for it anyway and the recording will automatically be added to your EU Training account, under the 'MY WEBINARS' section of your dashboard.
JOIN THE LIVE SESSION HERE:
DATE: Monday, 18 September 2023
TIME: 12:30 (Brussels time / CET)
Collaborate with Other Candidates
Get all the latest news, gossip, and great advice from fellow candidates by joining the Facebook group here: EPSO Lawyer-Linguists
New to the EPSO Selection Process?
REASONING SKILLS WEBINARS: