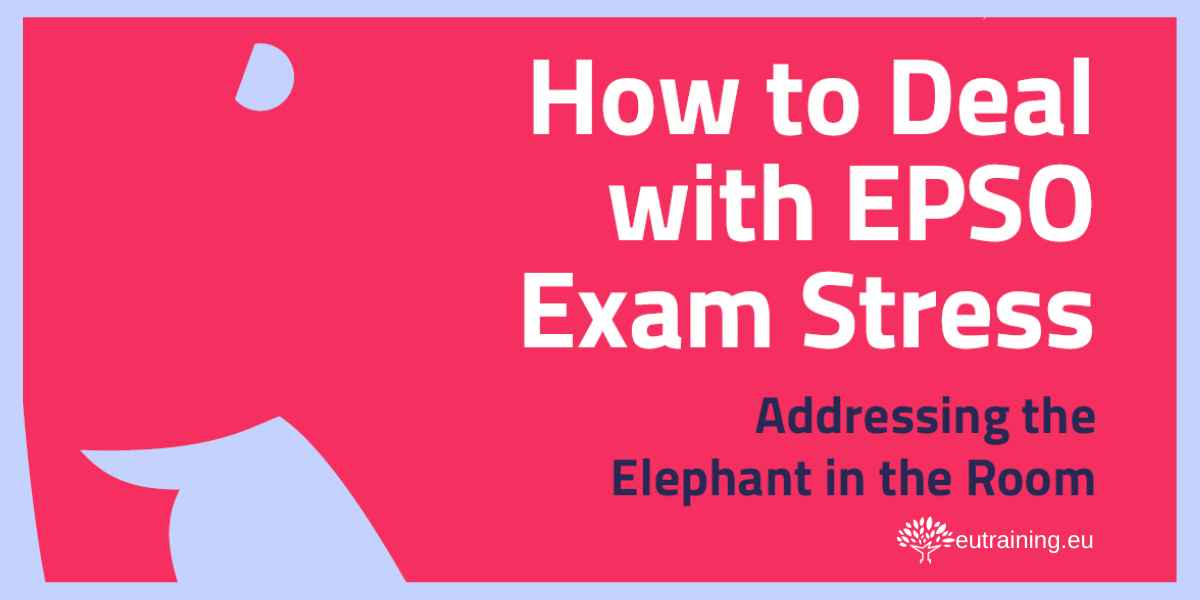 The fear of being put to the test can be quite stressful for many people and affects them adversely. Then they fail to perform to the best of their ability. However, some positive steps may help examinees control and reduce their stress and assist them in achieving their target. This new eBook and infographic is a guide to support candidates in reducing stress and anxiety.
ADDRESSING THE ELEPHANT IN THE ROOM
Nobody really talks about it, but a large percentage of people who prepare for and take EPSO exams experience high levels of stress and anxiety. Any type of exam can cause stress for that matter. Whether you are preparing for reasoning skills tests (CBT), MCQ in the field or a job interview - there is an underlying buzz of fear and stress. If this is not dealt with, it can adversely affect your performance.
EU Training's senior EPSO coach, and author of many other eBooks, has written a comprehensive and supportive guide for those who would like to learn how to manage their stress more effectively. The end result is the newly-published eBook - How to Manage EPSO Exams Stress: Addressing the Elephant in the Room (free download).
Although this is mainly aimed at EPSO candidates, it is absolutely applicable to anyone preparing for any type of exam or interview. Within the context of the new EPSO competition model, the interviews will not be part of the competition phase, but they will now become a part of recruitment. So once candidates get on a Reserve List for an institution, it is highly likely they will go through a 'mini' Assessment Centre, which means interviews. The advice given is applicable for computer-based tests as well as interviews.
Here's a helpful infographic highlighting the main points in the eBook: