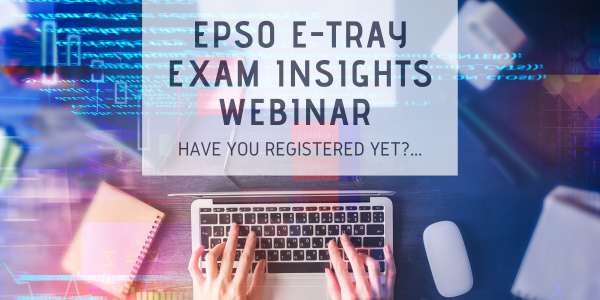 To help candidates get ready for the E-tray Exercise exams, EU Training will hold two LIVE E-tray webinars in November where participants can ask all their most pressing questions from our EPSO E-tray expert while accessing helpful insights and vital tips and tricks.
On 12 November & 25 November from 17:30-18:30 (Brussels time), EU Training will hold LIVE EPSO E-Tray Insights Webinars that:
explore the components that make up an E-tray and key elements to be mindful of
explain the competencies being measured
cover the positive and negative indicators for each competency
offer insights into how the 'correct' answers are chosen by the designers
provide several questions and answer blocks where you can get direct feedback from our E-tray expert.
Presented by EU Training's Senior Occupational Psychologist with over 20 years' experience in psychometric tool design - find out first-hand what to expect from the process.
You can book your place at one of our LIVE EPSO E-Tray Insights Webinars here:
12 November LIVE EPSO E-Tray Methodology Webinar session
If you can't attend the live session on this date/time, no problem!
Register for this session anyway and we will add the recording to your EU Training account as soon as it is loaded to the website. This way you can view it any time you want, as many times as you want. Easy!
Alternately, a recording of last year's webinar is already available to view here:
EPSO E-Tray Exercise Insights webinar recording (this will be updated with this year's recording).
ALSO, DON'T FORGET...
...3 BRAND NEW E-TRAY simulations have just been uploaded to our test database.
...one of these has even been made available in all top 5 languages of the AD5 competition - English, French, German, Italian and Spanish.
...EU Training has 30 AD practice E-tray exercises available in English, 7 E-tray tests in French and one available in German, Spanish and Italian.
...to join the EPSO Graduate Administrator (AD5) - ETRAY TIPS Facebook group - where you can engage with other candidates about this competition.