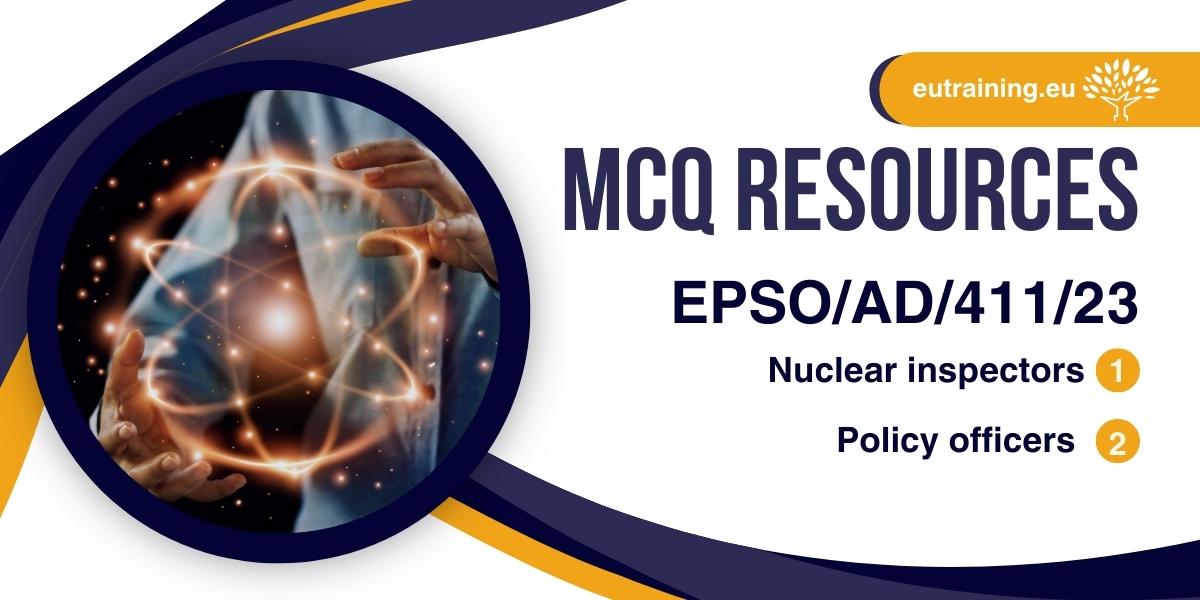 EPSO/AD/411/23 | Field-Related MCQ Resources
The objective of EU Training's practice questions is to enhance your preparation for the EPSO field-related MCQ for the Nuclear inspectors and Policy officers competition. The questions cover a wide array of topics in both profiles and also follow the information found in EPSO's Notice of Competition.
Nuclear safeguards inspectors
The multiple-choice questions focus on different aspects of the inspection of nuclear facilities related to nuclear safeguards: inspection and surveillance of nuclear facilities for nuclear proliferation.
The questionnaire is complemented with aspects of inspections by the regulatory authority in regards to nuclear safety, and inspections by the operator of nuclear facilities. Questions aim to cover the most relevant aspects of the nuclear fuel cycle, which are uranium enrichment and plutonium reprocessing plants, nuclear power plants, nuclear material ores and storage sites, and nuclear facilities decommissioning and final disposal of radioactive materials. Research reactors and nuclear fusion technology were considered as well, together with other uses of nuclear materials. Although the approach is focused on the nuclear industry in general, specific references to European Union cases are considered.
Sources
------------------------------------------------------------------------------------
Policy officers in the area of nuclear energy
The multiple-choice questions cover a wide range of topics pertaining to nuclear policy, including:
• history-related information (such as the years when relevant entities were created or when important agreements were concluded),

• explanatory details (what is the meaning of specific notions, concepts or entities),

• content details (regarding the membership of specific entities, and the focus of certain programs),

• policy process information,

• medical-related aspects,

• legal issues in nuclear energy,

• international negotiations, and

• economic and social aspects related to nuclear energy and industry.
Sources