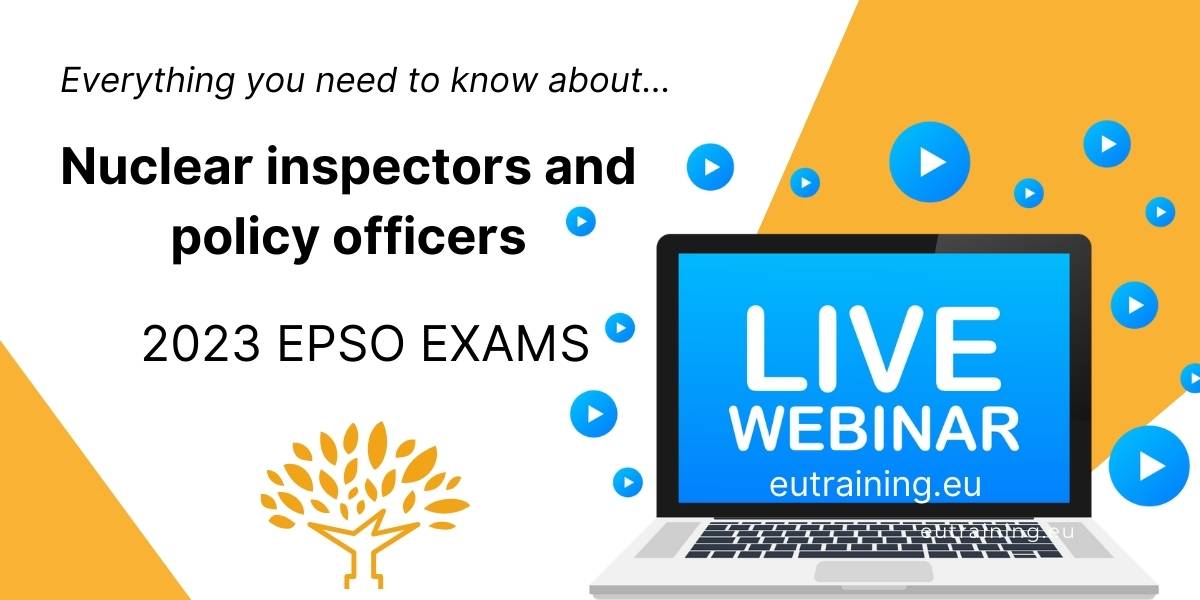 On 19 October 2023, EPSO will release the official Notice of Competition for EPSO/AD/411/23
EPSO is selecting specialists (grade AD7) for a reserve list from which the EU Institutions and the Joint Research Centre (JRC) based in Luxembourg, Karlsruhe, Ispra, Petten, Geel, Brussels, or Seville will recruit permanent officials. This is a great opportunity to start your EU career if you are an expert in one of the two fields specified:
Nuclear safeguards inspectors
Policy officers in the area of nuclear energy
To get you familiarised with the Notice of Competition and what will be expected of you in this selection process, EU Training will host a free info webcast on Friday, 20 October at 12:30 PM (Brussels Time/ CEST).
Here's how to register for this free event:
Log in to your eutraining.eu account
Click on 'Get', and the webcast will automatically appear in the 'My webinars' section of your dashboard.
If you register, you will get the recording - whether you attend the live webcast or not. It will be added directly to your EU Training dashboard, where you will also have access to the presentation slides and webcast transcript. Those who attend the live event will get a special thank-you gift for participating.
JOIN THE LIVE SESSION HERE:
DATE: Friday, 20 October, 2023
TIME: 12:30 (Brussels time / CEST)
Join fellow candidates:
Collaborate with other candidates, form study groups, get advice, and hear about the latest news first here: Nuclear Inspectors EPSO Exams
New to the EPSO selection process?
Preparing for this EPSO competition?
REASONING SKILLS WEBINARS:
Questions, comments, free advice?
Have technical issues with the website? Need some more information about this competition? The EU Training customer support team is here to help: contact us!