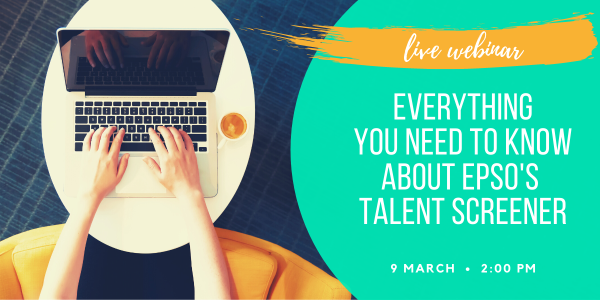 A great opportunity has presented itself - an EPSO competition that matches your area of expertise and qualifications has been announced!
Now it's time to complete your application...
...but as you read through the Notice of Competition you see that you also need to fill out a Talent Screener as part of the application process.
"What is a Talent Screener?" you might ask.
At first glance, it may seem like just another section of the application form, but in fact, it plays a crucial role at the very start of the EPSO selection process.
Getting this part wrong can easily jeopardise your chances of moving through to the next stage of the competition - which you don't want to risk.
To help candidates complete their Talent Screener successfully, EU Training will hold a LIVE WEBINAR on 9 March at 2:00 PM (Brussels Time) to discuss the requirements of this task in detail.
During this live session, our EPSO experts will delve deep into all aspects of the Talent Screener such as:
how it is used as a selection tool,
how it is scored,
common mistakes candidates make,
and offer tips on how to prepare a stellar Talent Screener that scores high during the Selection Board's screening process.
This live webinar will be presented by Andras Baneth, author of The Ultimate EU Test Book, a former EU official and expert on EU careers.
Use this great opportunity to ask questions and get answers directly from someone that knows the ins-and-outs of this selection process intimately.
If you can't attend the live session on this date/time, no problem!
Register for this session anyway and we will add the recording to your EU Training account as soon as it is loaded to the website. This way you can view it any time you want, as many times as you want. Easy!
Reserve your spot at the LIVE Webinar here:
When: 9 March 2022
Time:
14:00-15:30

(Brussels Time)