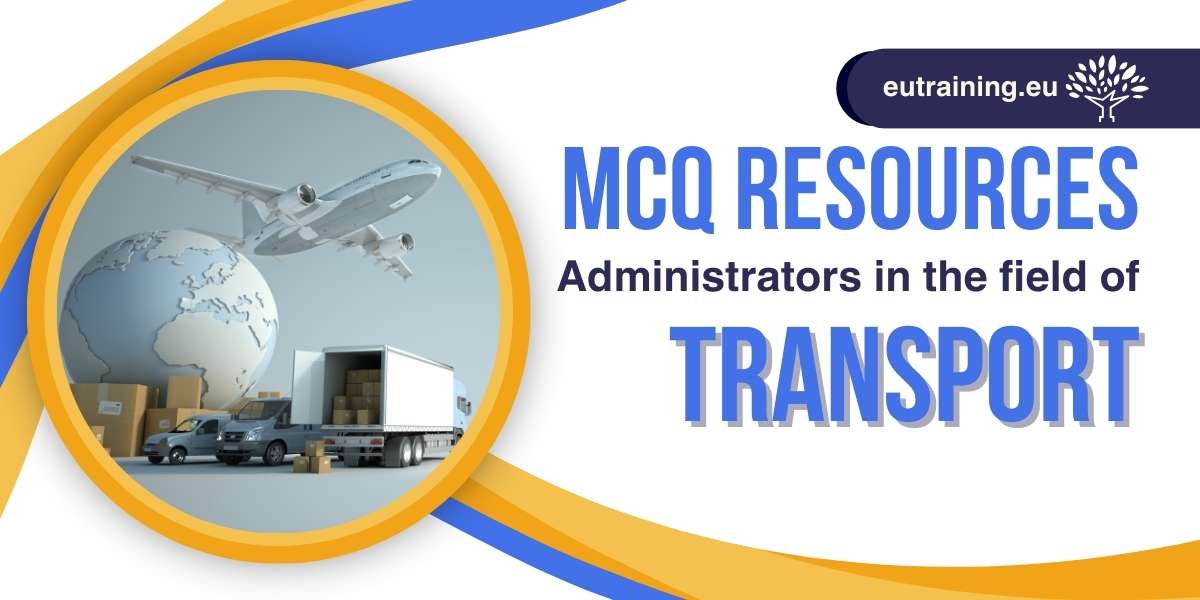 EUT | MCQ Resources
EU Training's practice questions aim to help you prepare by simulating the field-related MCQ on a platform similar to EPSO's and questions similar to what you may get on the field-related MCQ. The questions cover various topics related to this field and the information found in EPSO's Notice of Competition was used to create them.
EPSO/AD/410/23 | Administrators in the field of transport | AD7
The European transport policy aims to support connectivity and sustainable mobility, remove major barriers to the development of a single European transport area, improve social conditions and uphold passenger rights. The proposed questions cover the EU transport sector and are drafted to assess and expand the candidates' knowledge in this field. In particular, the sample is structured to provide candidates with a general overview of EU regulations, strategies and policies governing the EU transport sector, from the Treaty of Rome and the Treaty on the Functioning of the European Union to the latest measures taken to tackle the Covid-19 pandemic, such as the "Green Lanes" initiative, and the Russian war against Ukraine, such as the "Solidarity Lanes" plan.
Among the horizontal aspects, a major focus was given to the Sustainable and Smart Mobility Strategy and the "Fit-for-55" package, which aim to achieve the green and digital transformation of the transport system while ensuring that EU policies are in line with the climate goals agreed by the Council and the European Parliament. They cover the implementation of the European Green Deal in transport, which aims to reduce transport emissions throughout the transition to alternative fuels for mobility, and the Clean Vehicles Directive, which promotes clean mobility solutions in public procurement tenders. Other topics falling within the proposed questions include infrastructure planning, security and safety, passenger rights, Contingency Plans for transport and Military Mobility.
The questionnaire also takes into account the different transport modes regulated at the European level, i.e. air, rail, road, maritime, and inland waterways modes, providing the candidates with an insight into the different EU strategies, regulations and policies for each specific mode, as well as the main European agencies and international organisations responsible for transport control and management.
------------------------------------------------------------------------------------
MCQ Resources
Communication 2020/789 "COMMUNICATION FROM THE COMMISSION TO THE EUROPEAN PARLIAMENT, THE COUNCIL, THE EUROPEAN ECONOMIC AND SOCIAL COMMITTEE AND THE COMMITTEE OF THE REGIONS - Sustainable and Smart Mobility Strategy – putting European transport on track for the future"
Communication 2021/550 "COMMUNICATION FROM THE COMMISSION TO THE EUROPEAN PARLIAMENT, THE COUNCIL, THE EUROPEAN ECONOMIC AND SOCIAL COMMITTEE AND THE COMMITTEE OF THE REGIONS 'Fit for 55': delivering the EU's 2030 Climate Target on the way to climate neutrality"
"JOINT COMMUNICATION TO THE EUROPEAN PARLIAMENT AND THE COUNCIL - Action plan on military mobility 2.0" of 10.11.2022
Communication 2022/217 "COMMUNICATION FROM THE COMMISSION TO THE EUROPEAN PARLIAMENT, THE COUNCIL, THE EUROPEAN ECONOMIC AND SOCIAL COMMITTEE AND THE COMMITTEE OF THE REGIONS An action plan for EU-Ukraine Solidarity Lanes to facilitate Ukraine's agricultural export and bilateral trade with the EU"
Directive (EU) 2019/1161 of the European Parliament and of the Council of 20 June 2019, amending Directive 2009/33/EC on the promotion of clean and energy-efficient road transport vehicles
Communication 2019/640 "COMMUNICATION FROM THE COMMISSION TO THE EUROPEAN PARLIAMENT, THE EUROPEAN COUNCIL, THE COUNCIL, THE EUROPEAN ECONOMIC AND SOCIAL COMMITTEE AND THE COMMITTEE OF THE REGIONS The European Green Deal"
Regulation (EC) No 261/2004 of the European Parliament and of the Council of 11 February 2004 establishing common rules on compensation and assistance to passengers in the event of denied boarding and of cancellation or long delay of flights, and repealing Regulation (EEC) No 295/91
Regulation (EU) No 1315/2013 of the European Parliament and of the Council of 11 December 2013 on Union guidelines for the development of the trans-European transport network and repealing Decision No 661/2010/EU
REGULATION (EC) No 1070/2009 OF THE EUROPEAN PARLIAMENT AND OF THE COUNCIL of 21 October 2009 amending Regulations (EC) No 549/2004, (EC) No 550/2004, (EC) No 551/2004 and (EC) No 552/2004 to improve the performance and sustainability of the European aviation system
Commission Implementing Regulation (EU) 2019/947 of 24 May 2019 on the rules and procedures for the operation of unmanned aircraft
European Commission, Directorate-General for Mobility and Transport, EU transport in figures: statistical pocketbook 2022, Publications Office of the European Union, 2022 (EU transport in figures - Publications Office of the EU)
Towards a smart and sustainable single European transport area: an assessment of the past 10 years of EU regulation | Florence School of Regulation
European Commission: Trans-European Transport Network (TEN-T)
European Commission Mobility and Transport - European Maritime Single Window environment
European Commission Mobility and Transport - NAIADES II
European Commission Mobility and Transport - Digital Transport and Logistics Forum (DTLF)
Eurocontrol - European aviation support organisation
"EU Regulation and Competition Law in the Transport Sector", Luis Ortiz Blanco and Ben Van Houtte, Oxford University Press, USA; 2nd Revised ed. edition (23 April 2017) – for purchase book
---------------------------------------------------------------------------------