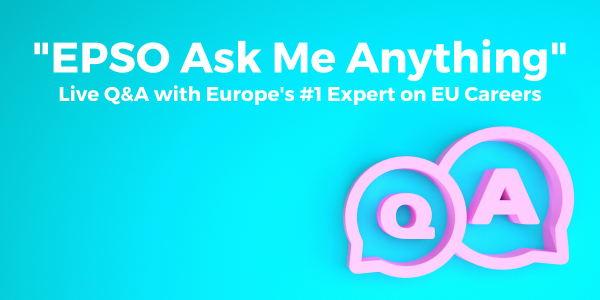 Would you like to have an EU career, working for one of the EU institutions?
The EPSO selection process can be rather complex, but EU Training is here to help you navigate the recruitment steps towards your ideal EU job.
Do you have an EPSO related question?

Searching for resources to prepare effectively for an EPSO exam?

Confused about a certain aspect of an EPSO competition?

Need sound advice about the EU institutions' recruitment processes from someone with first-hand experience?

Want some clarification about the recent changes EPSO has introduced, such as the online CBT or Assessment Centre.
Then you've come to the right place...
Join us via Facebook Live on 25 November, from 12:30 p.m. for a Q&A session will:
András Baneth - Europe's #1 expert on EU careers, a former EU official and author of The Ultimate EU Test Book 2005-2020, and
Jan De Sutter - Former President of an EPSO Selection Board, EU Training's Senior Assessment Centre Coach, and Co-author of The Ultimate EU Test Book – The Assessment Centre Edition.
They will be available during this session to answer your EPSO related questions.