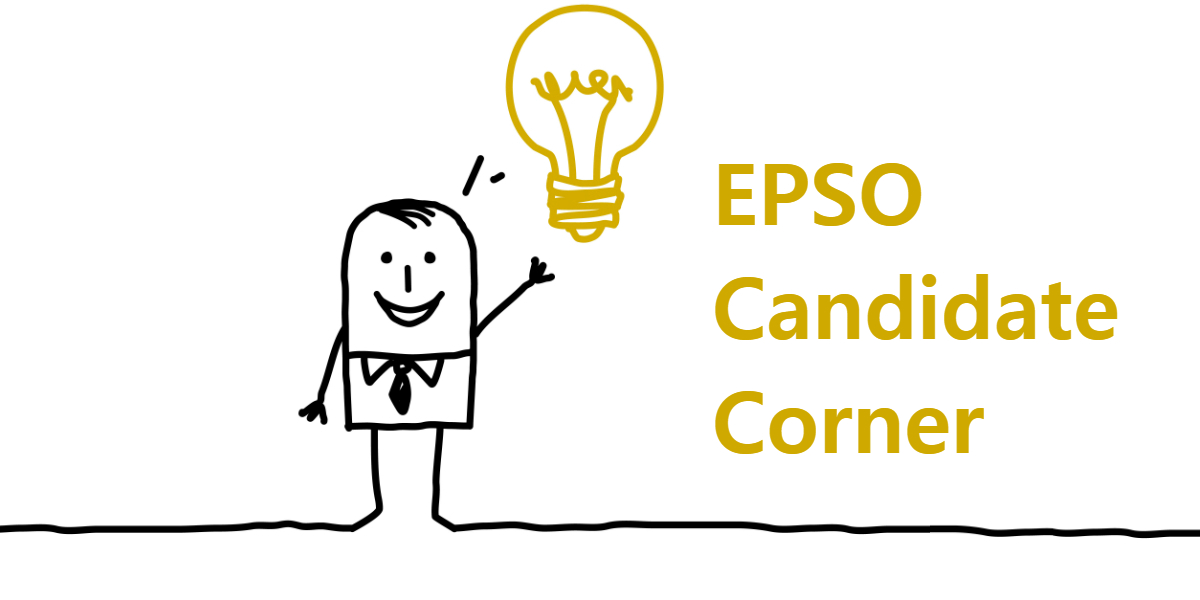 The following is a report from a successful EU exam candidate who is now a European Commission official (Part 2 of 2).
This part covers the EPSO Assessment Centre for Administrators (AD)
"I have just been informed that I successfully passed the 2011 Administrator (AD5) statistics competition, so I decided to share with your readers my experience with EPSO competitions. As I am extremely pleased with the services on your website, it really makes a difference using this tool for preparation. Feel free to use my text below if you wish to publish it and please do so without mentioning my name. What matters is to share information for everyone's benefit." 
III. What the Assessment Centre (AC) looks like
I had the pleasure to participate in 3 different ACs in 2011. One for Assistant (AST) and two for Administrators (AD) so I hope to give you some hints, description of the conditions and what and how did I prepare.
I will now write about the AD Assessment Center. If there was any difference from the AST version, I will point out explicitly.
The Case Study
As you might know, for the general Administrator exams, the case study is organised at the same time in all EPSO exam centers in Europe on a computer (for most specialist exams it is still done on paper, or a combination of paper and computer). You should be in the exam centre 15 minutes beforehand. 
Make sure to respect this requirement so as to prepare yourself mentally. Exactly at the given time you will start your exam. Do not expect any sophisticated computer screen; the word processor you will work with is a very (!) basic one, similar to the Notepad program in Windows.
It was so basic that it was quite hard to use it, actually. No keyboard shortcuts working. The case study has several background files that are presented in an on-screen format. You have to open all the emails, newsletters, etc. available to you on the computer by navigating at the bottom of the page. 
These files overlap each other and your field of writing, which makes navigation less convenient and quite hard to have an overlook of your dossier. Moreover, the window where you need to write is available only at the bottom half of the page and the upper part of the screen is the task description. This means that you will have to scroll a lot and will not be able to have a good overlook of the "paper" you draft.
The tasks you are required to do are generally OK, however, you will not find these related to your domain in every field. In most domains I believe you can more or less expect what to write about, which are the "hot" topics, what kind of reports or formats are used in the given field.
Based on the case study webinar of Online EU Training and some healthy common sense, I read a lot of articles about my subject so I felt I was quite well equipped with the terminology of my field. As it turned out, you needed much more skilful drafting knowledge and written expression skills than knowledge in the related field, which, I must say, I found strange in view of the Notice of Competition and the profile description.
You can prepare yourself for the case study by the above webinar and by reading articles on "clear writing" and of course, very importantly, you should structure your sentences in a very logical, clearly understandable way (e.g. by using bullet points, section headers, short sentences, key phrases). A good structure is half a success in my opinion and, not to forget, it is evaluated as good written communication competence.
I think the best tactics is to read the question/task description and already start drafting the title and sub-headings of your paper. Then read the background documents, such as emails/documents/newsletters you are given and fill in the headings accordingly. Always leave a good 20 minutes for the end to comb the text and refine it.
As you may know, the Assistant (AST) concours has no case study but a computer based e-tray exercise. These test your prioritisation and organisation abilities for which there is not much you can prepare for, though a good online simulation is always very helpful. Read the instructions carefully and make sure not to run out of time. I personally had no problem with time management as I had some 7-8 minutes at the end to double-check all answers once more.
Oral Exams: Presentation & Interview
In the morning we were asked to be present at the EPSO venues at a certain time. Some people started at around 9 o'clock, others at 10 or 11. At the very beginning we were asked to hand over the "package" we had to prepare (consisting of the signed application form, proof of work experience if relevant, copy of diploma, photo, etc.). At the very beginning everybody gets the agenda for the day, including information on where to be and at what time. Well organised, no question about it!
Structured Interview
Then there was the interview of 40-45 minutes. Generally very kind interviewers, very well prepared, which also means that you can barely read their faces, making them excellent potential poker players. The questions they ask you are based on the 4 competencies that are communicated to you beforehand and before each topic the assessors tell you which competency they are going to ask about. The questions are preceded by a 2-3 minute introduction about yourself. Careful: if you talk longer, you will be interrupted before your time is up!
Since the interview concentrates on your experience on the given competencies, your preparation should focus on several good examples of what you did in your personal or professional life.
I dedicated a lot of time thinking of the questions that may arise for each of the competency at the interview. I listed a lot of them and tried to answer for myself. You will be surprised how creative sometimes the assessors can be in their follow-up questions, but no need to worry.
I think if you have 3 examples for each of the competencies, you should be safe. This would give you 12 examples all together and if you have 12 "stories" to tell them, for sure you will be able to recall one or two at the exam.
Always be honest, not the least because the assessors would catch you out if you lie since the questions are cross-referenced with each other. If you memorise 12 stories, I bet you can formulate or adjust many of them and use for many competency questions in a versatile manner.
An example: if you are asked to give an example of a teamwork, you can easily use a work experience that is suitable for leadership (if you were the leader of that project team). My advice is to be very detailed about what you did, what your role was, how you managed the task as the assessors want to know your personal involvement in the project. Finally adding some "take-away" conclusion is the cherry on the cake.
Oral Presentation
This is the second exercise of the day, though you may have the tests in a different order than I did. You have 30 minutes of preparation and you receive a 12-13-pager to read, which in my case covered a the issue of presenting a background briefing to my hierarchy on an unemployment study and basic statistical analysis.
Only in the last 5 minutes will you receive a flip-chart to draft your core story on it if you wish to do so. In the exercise the two assessors played a role of a Head of Unit and Director. And they did it very well – a simulation close to the real world.
While you read your task description, try to structure the story you wish to tell. Find the key message of the text you will base your speech on. You are given a sheet of paper to take notes on. Once I read the text I already jotted down the headlines as bullet points.
Having read the full text, I was asked to think over the full story I planned to deliver in my speech. Then I was thinking how I should tell the story that has a proper beginning and an end.
A good opening, the description and argumentation of the stakeholders of the given text and a good conclusion is essential. In my case I was asked to give my personal opinion how I would solve the problem. I think this was a fair enough question as my analytical skills were certainly tested with this exercise.
This way I was tested if I could understand the full scope of the task and it also opened the door to the Q&A session. I was given 10 minutes for the presentation of which I used 9. Then another 10 minutes were given for the Q&A.
Be prepared for figures and charts in the text, and expect that you will be asked "unexpected" questions which you may have no idea about. These are deliberately asked to test your resistance and I think that if there is no good answer in terms of professional content, your argumentation marks the difference. This was the exercise I enjoyed the most and my guess is that I did here the best.
Group Exercise
All participants gathered late afternoon around 4 o'clock. We were split into groups of 6 people and all of us received the same task description except the last page which was different for each of us.
The group's mandate was to discuss and come up with a solution to "the problem". Interestingly, there is no good or bad solution. What was tested was the interaction with others, the listening skills, giving feedback, sharing your opinion with others.
The last page that was different from other participants' briefing provided you with the position of an NGO, an EU body or a similar entity. In my opinion this is just a position in the discussion that you should present to others, but not necessarily what you have to defend towards them.
Some of the fellow contestants understood this differently and they were defending their position like a bulldog. I am not sure whether this was the right approach, I however tried to participate in the discussion and help to structure it proactively so we could end up with a resolution. We had a total of 45 minutes to do so. Though the allocated time very tight and we almost ran out of time. This also resulted in us having hardly any time to conclude the exercise, but I was more than glad to receive EPSO's letter some 3 months later informing me that I reached enough points to be among the candidates placed on the reserve list. Hurray!
Interested in the EPSO Pre-Selection exams and 1st hand experience? 
Click here for part I.
If you are preparing for the EPSO Assessment Centre, be sure to check out the following webinar recordings: